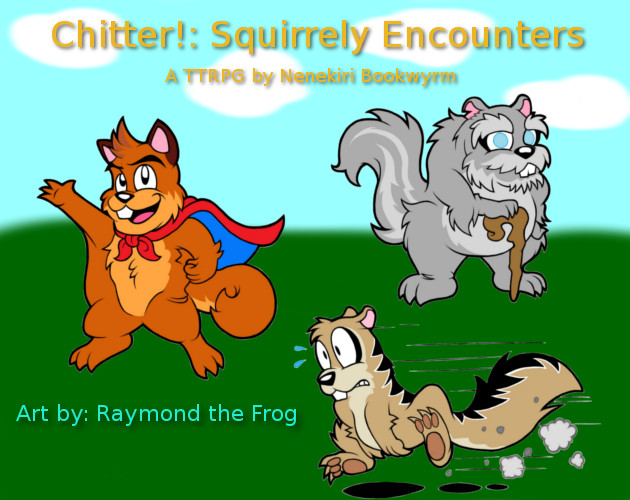 Chitter!
A downloadable squirrel game
Squirrels are everywhere! In your neighborhoods, forests, and outside your businesses. In this game, you'll be taking the role of one of the many squirrels that make up the local squirrel community. The system is rules light to allow the DM and players to experiment with what they think the challenges of being a squirrel in their community would entail. The main resource and reason for everyone to do things is food. Food is consumed at the end of each day in game time and food is used as a way to perform difficult tasks. The difficulty of the action corresponds to the amount of food used. Players are encouraged to share their food with each other and with their community to help it succeed. Be careful though, as sometimes the road to having enough food is fraught with peril and danger.
Will you be able to stockpile enough before Winter and help your community thrive?
Big Update! I've added an expansion document to Chitter! It's called Squirrely Encounters and features art of some of the NPC's by Raymond the Frog! Check out his stuff over here: https://twitter.com/Raymondthefrog1
The expansion deals with some possible scenarios for players to explore in their games of Chitter! As well as providing some built-out NPC characters for the DM to use in their games.
Supplementary materials:
Added a sample player sheet and some food tokens that can be printed out and cut out to use during games.
Download
Click download now to get access to the following files:
Chitter!_ A Squirrel based RPG.pdf
69 kB
ChitterExpansion_SquirrelyEncounters.pdf
407 kB
ChitterFoodTokens.jpg
76 kB
ChitterPlayerSheet.jpg
47 kB